Roll over image to zoom in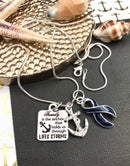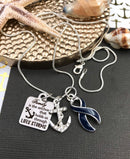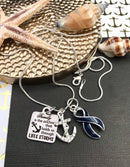 Description
The Dark Navy Blue ribbon represents alopecia awareness, acute respiratory distress syndrome ARDS, Chronic Fatigue Syndrome, Colitis, Colon Cancer, Colorectal Cancer, Crohn's Disease, Cyclic Vomiting Syndrome CVS, Spoonie Awareness, Epstein-Barr Virus, Erb's Palsy, Guillain Barre Syndrome, Histiocytosis (Langerhans Cell Histiocytosis (LCH) or Histiocytosis X), Huntington's Disease, Ichthyosis, Koolen-de Vries Syndrome, Krabbe Disease, Mastocytosis, Rectal Cancer and Restless Legs Syndrome.

* The 1 inch pendant is laser cut, silver, and reads: Family is the Anchor that holds us through Life's Storms

* Cause ribbon charm is sterling silver plate and acrylic. It measures an inch tall.

* Anchor charm is sterling silver plated pave.

* The silver plated snake chain is available in several length choices. There is a sizing chart included in the product photos for reference.

Your jewelry will be carefully packed into a beautiful box and will include care instructions and a small polishing cloth. Please contact me if you need any changes.
Payment & Security
Your payment information is processed securely. We do not store credit card details nor have access to your credit card information.